BPO
Project Control
The further development of Lean Construction
The construction industry is confronted with the conflicting goals of cost, time and quality. Many construction companies are already using lean methods to meet this challenge in the long term. While the practical implementation of paper-based lean methods on construction sites has increased in recent years, the further development of these lean methods seems to have come to a standstill. The potential of new digital media to simplify the flow of information remains largely untapped.
BPO PROJECT CONTROL is the first digital and dynamic cycle planning system for building construction and civil engineering with integrated real-time control of the trades. BPO PROJECT CONTROL solves coordination problems, reduces ambiguities and shortens hours of meetings, and makes the overall process more effective. For this purpose, new methods were developed and combined in a smart and clearly structured software module to form an effective tool.
With BPO PROJECT CONTROL you carry out the planning in a simple and understandable manner and schedule the respective trades for the individual days. Shifts can be easily recorded and the updated plan data can be made available to the participants on the smartphone. In the management cockpit you keep a clear overview of the most important parameters such as costs, adherence to delivery dates and quality. You receive comprehensive documentation and a clear analysis of your project at the push of a button.
In the first step, the construction process can be prepared on planning boards with plug-in card systems or post-its, just as with classic lean methods. The existing measures and rounds of talks will be sensibly supplemented by digital media and in a further step replaced by a fully digital system. The digitization of lean methods for building construction means moving on to the next stage of development in process optimization. BPO PROJECT CONTROL implements lean methods digitally and avoids media breaks.
planning stage
The framework schedule covers all cornerstones of the project. This is followed by cooperative work. BPO PROJECT CONTROL uses tried and tested lean methods that we have further developed and transforms them into a practical, digital tool. All process participants are interactively integrated and networked in real time. In the regular planning session, all participants can be interactively integrated via tablet PCs or laptops. If a trade union is moved by a participant, the shifts are bundled in the interactive planning board and forwarded to all participants in real time. This approach makes optimum use of employee know-how and actively involves all parties involved.
Rough planning is carried out on a weekly basis. Depending on the scope of the project, over a period of 3-6 months. From takt planning to the pull principle and the focus on value-adding activities, a variety of methods are implemented. The subsequent detailed planning on a daily basis forms the basis for controlling the processes in real time. Detailed planning is directly linked to rough-cut planning, so that the change in one planning horizon has a direct effect on the other.
The advantages are clear: shifts in rough planning have a direct effect. Subsequent changes and manual updates are not necessary. Within the detailed planning, all trades and project participants are dynamically clocked and networked.
execution stage
A smooth and resource-saving construction process is one of the quality criteria by which today's companies must be measured. In addition, the complexity and time pressure in building construction and civil engineering are constantly increasing. Constantly changing conditions and obstacles require rapid reaction and make numerous changes to plans and coordination necessary.
BPO PROJECT CONTROL supports you to ensure a more effective process and to set yourself up for the future. In order to achieve this goal in the short term and ensure it in the long term, it is necessary to involve all players live. BPO PROJECT CONTROL is the most advanced control and real-time system for building construction and civil engineering. You do not need expensive special hardware. A laptop or tablet PC is enough.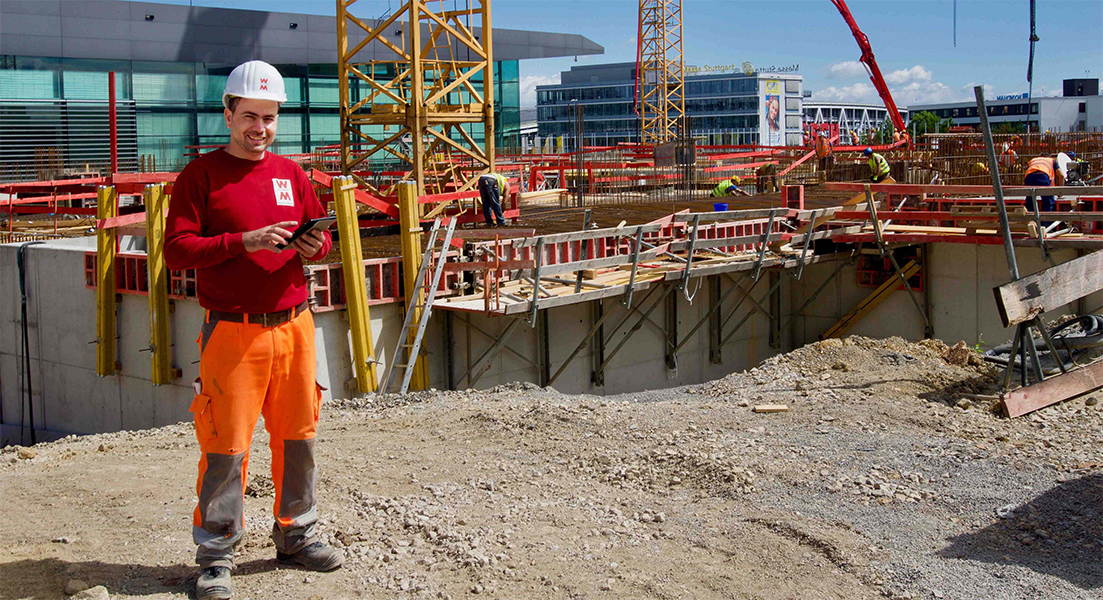 You coordinate trades, information and equipment clearly on your construction site. All players are directly networked with each other. A target/actual comparison keeps you informed about the status of your project and enables you to react in a coordinated and structured manner to obstacles and opportunities. Costs, deadlines and quality are always in focus. Date shifts are forwarded directly. Tasks are recognized early and are no longer forgotten. Meetings are significantly shortened because all information is made available to the project participants via a smartphone app.
debriefing
At any time during the construction project it can be traced where which service was generated. All available data are linked to the planning and are available for analysis at the push of a button. Project data is no longer lost and is always up-to-date. The construction site diary contains special incidents, weather data, notes and execution documentation.
The adherence to delivery dates is mapped in the evaluation. Critical processes and problematic activities are described for the further course. In addition to the documentation of the area management (safety, order, cleanliness), all reasons for delays and malfunctions are recorded in order to minimise them in the long term. The evaluation thus forms the basis for a continuous and cross-project improvement.
Customers about BPO:
With BPO PROJECT CONTROL we get the first software system with digital real-time control of all trades. The process on the construction site becomes noticeably simpler and more efficient./p>