BPO
MILLING
BPO MILLING is the first software solution to optimise the milling process. During the planning process the site is prepared with a cycled planning following the just-in-time principle. During the milling process the supply logistics are controlled from the site in real-time. Idle time for the milling machines and the freight space are minimised. Adhering to set unloading targets is made easier because the moved material is already scheduled.
The documentation of the milling process is significantly streamlined. Optimisation and analysis of the construction day is possible using several index values and precise evaluation of the site as well as the freight space.
Scope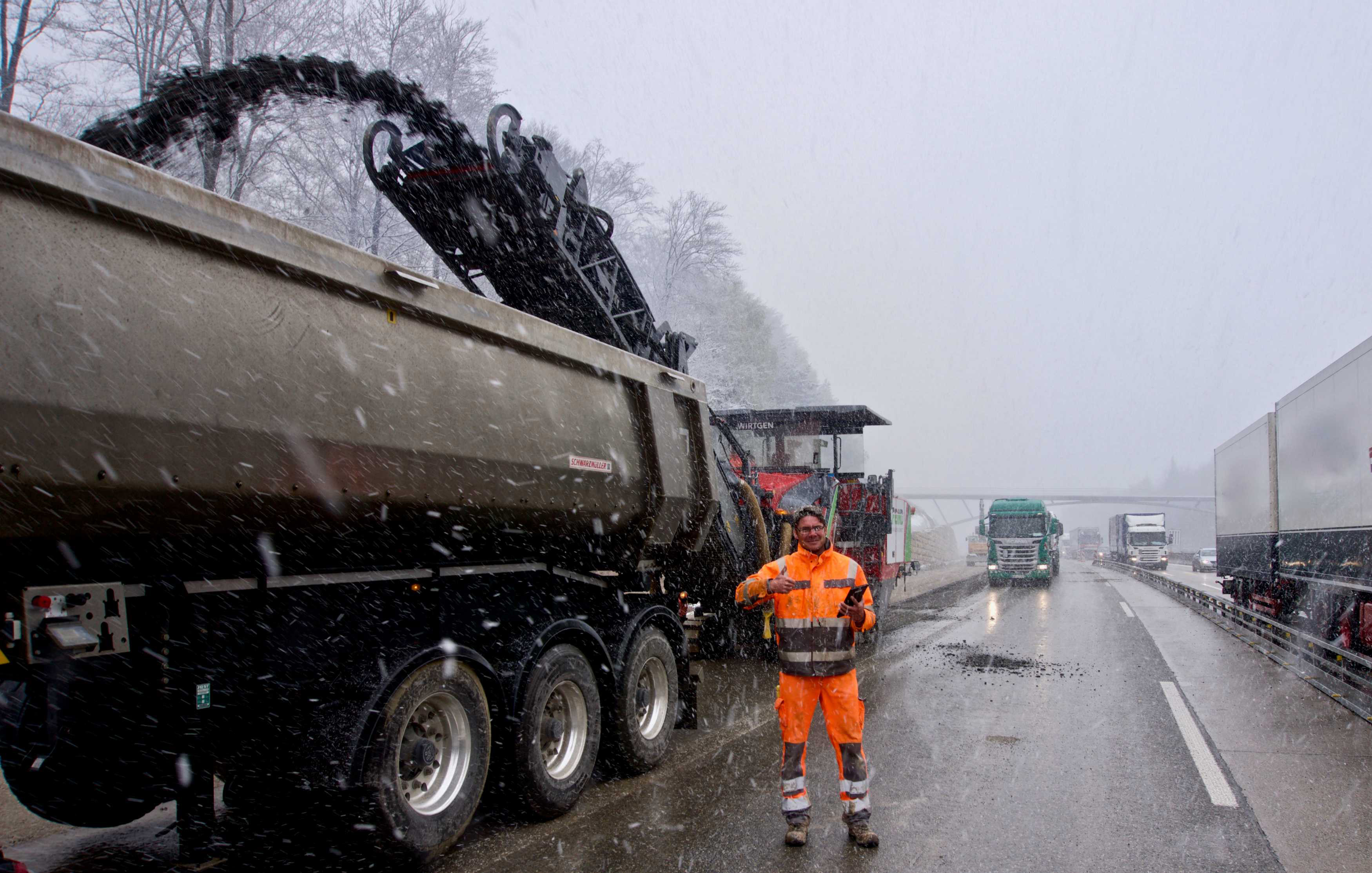 Mobile Project Planning
The milling process in the road construction sector is a challenge. Often the entire trade is given to subcontractors and there is no time for long winded coordination talks. The coordination of truck logistics and the unloading locations is often time consuming and in some cases unclear. Constantly chancing conditions require fast responses and make numerous planning adjustments necessary. This is why we created a synthesis of cutting-edge software and mobile technology. BPO MILLING shortens the entire planning process to a couple of minutes and increases the planning quality by using all available. With BPO MILLING you plan more efficient, faster, easier and if necessary out and about. The licence holder conducts the project planning in a small number of steps to end up with a complete time and sequence plan even if you plan to combine asphalt delivery with milling material transport.
Also: BPO is completely flexible. Adjustments during construction is not a problem even if the construction process has to be changed during the day. BPO supports you exactly how you expect it to do.
Cycle Planning
After defining all required data of the milling process during planning, the detailed cycle planning is conducted. With all parameters taken into account the entire milling process is clocked. The result is a minute-by-minute target milling sequence following the just-in-time principle. The results are presented in a cycle diagram or in a clear simulation for the management. The cycle planning is the basis for for a milling process with clear target requirements that can be measured during execution.
Milling and & Logistics Concept
BPO MILLING ensures that all available information is used beforehand to guarantee a stress free construction process and to minimise idle time of the miller as well as idle time of the trucks. All important parameters, drafts and planning documents are summed up in the paving and logistics concept in a clear and detailed way. All planning documents are available at the push of a button and can be forwarded to the subcontractor immediately on request.